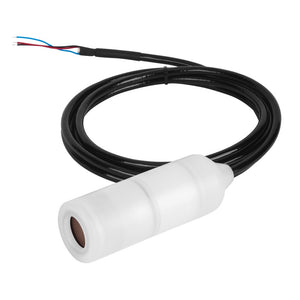 PP Submersible Level Transmitter
Regular price $366.00 Sale
LiquiLevel MP633 Submersible level transmitter is designed for dealing with the most severe demanding level measurement conditions. It is the optimal choice to satisfy all of high demand level measuring applications.
• Original calibration technology, realize parameters setting easily without any tools.
• Support user configuration, meet the requirements of various applications and measuring medium.
• Linear error and temperature error compensation of sensors to achieve high precision.
• Built-in transient voltage protection circuit and optional of temperature measuring signal output. Fully potting design to eliminate the condensation phenomenon, dual-seal design to assure permanent air tightness.
• Intensive cable seal to assure the long working life under large mechanical load conditions.
• Laser welding isolated membrane technology to assure the durability.
• Optional various sensor technologies to satisfy the application of viscous and acid- base occasions.
• Measuring range: 1 mH2O - 200 mH2O
• Output signal: 4-20mA, 4-20mA+HART, 0.5-4.5VDC, Modbus-RTU/RS485, others
• Reference accuracy: ± 0.2% URL, ± 0.5% URL
• Stability: ±0.2% URL/ year
• Sensor type: Capacitive ceramic pressure sensor
• Sensor seal: O-ring, FKM
• Housing material: PP, PVDF, SUS316
• Media temperature: -10~ 70℃
• Measuring medium: Water, waste water, oil
• Approvals: CE & Ex-proof certificate
• Sewage treatment
• Level measurement in open tanks with aggressive liquids as acids and lye.